Essential care and enhanced care
Maintenance convenience for your vehicle.
Whether you buy or lease your car, crossover, SUV, light duty truck or van, it's a major purchase and one you'll want to enjoy and protect throughout the ownership period. You can make maintenance easier and extend the life of your vehicle by keeping it well serviced with the Essential Care or Enhanced Care pre-paid vehicle maintenance plan products offered by General Motors of Canada. 
Both Essential Care and Enhanced Care provides basic maintenance coverage, oil and filter changes, chassis lubrication, inspections, tire rotations and other specified maintenance services as outlined in the Chevrolet Buick GMC Cadillac maintenance plan contract. 
This also means no unexpected financial surprises or out-of-pocket costs for covered maintenance services. And, your vehicle is maintained properly - especially important if you lease it - because maintenance is done by the people who know your vehicle best - the certified service experts at your Chevrolet Buick GMC Cadillac dealer. 
This can be financed when you purchase your vehicle.
Meets your needs
Match Essential Care and Enhanced Care to your driving needs. Coverages are offered in a variety of time and kilometre combinations up to 7 years and 120,000kms. There are NO additional fees, so there are no out-of-pocket expenses on covered maintenance services. Essential Care is available for vehicles that are less than 3 model years and with no more than 60,000kms on the odometer. Enhanced Care can be purchased when you take delivery of your new vehicle. If you decide to sell your vehicle, Essential Care can be transferred to the next retail owner without any transfer fee.
Coverages
Essential Care and Enhanced Care vehicle maintenance service plans include specific coverage benefits based on the term and kilometres selected.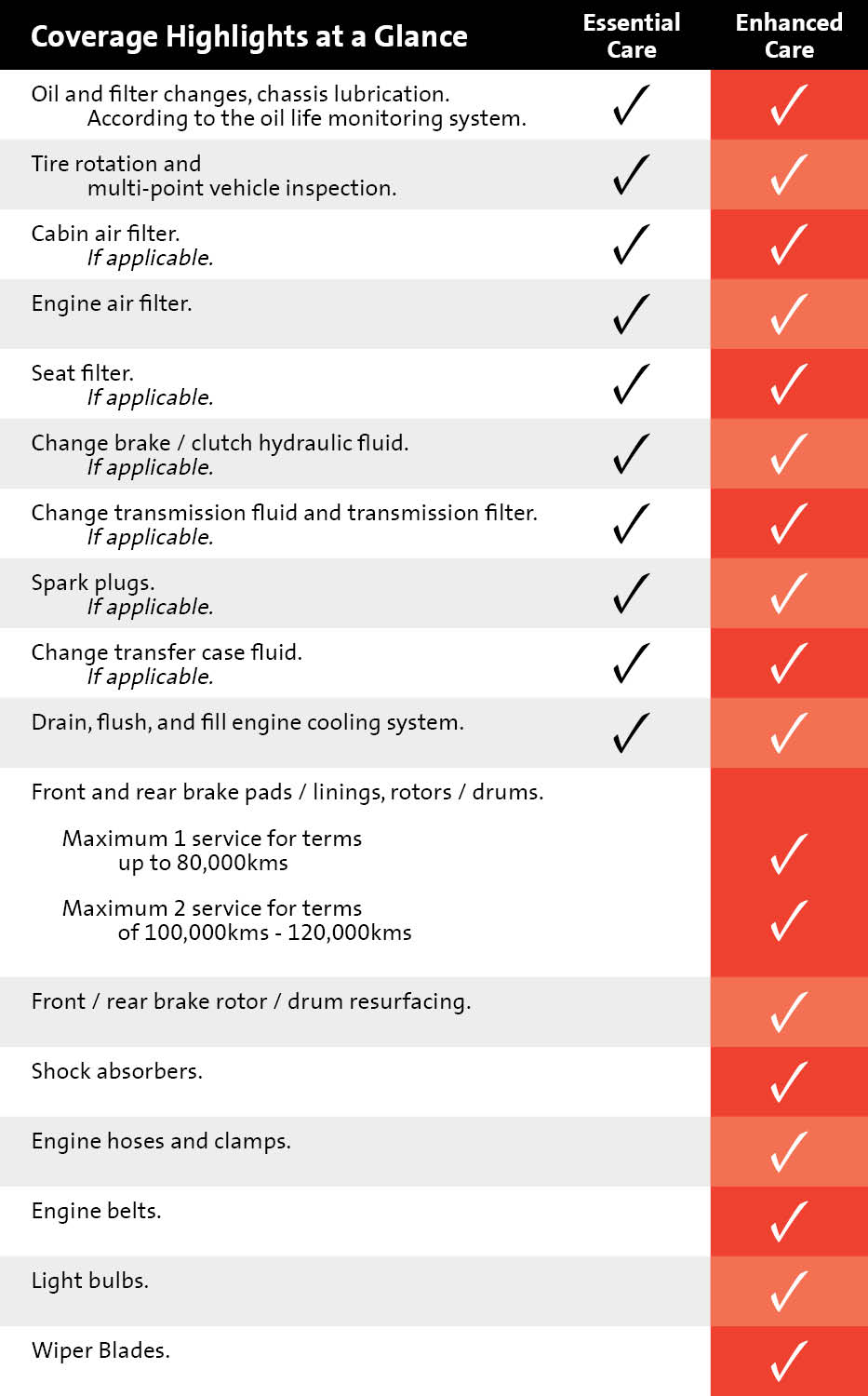 Questions and answers