Silverado HD Tops Segment In 2021 J.D. Power Vehicle Dependability Study
2021 Silverado HD on Top
The 2021 Chevy Silverado HD finished atop the Large Heavy Duty Pickup segment in the recent 2021 J.D. Power Vehicle Dependability Study.
Most Dependable Heavy Duty Pickup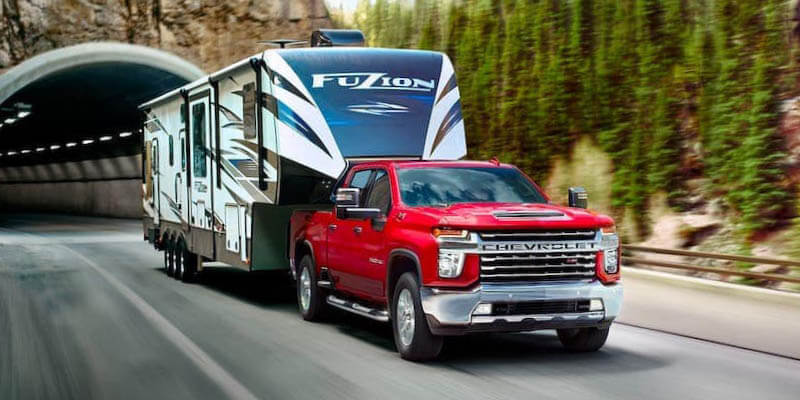 Silverado HD outclassed the closely related GMC Sierra HD
The J.D. Power Vehicle Dependability Study attempts to rank automakers and vehicle models based on their overall reliability. To do this, the study surveys original owners of three-year-old vehicles and asks them to record the various problems they've experienced with their car, crossover, truck or SUV. It then ranks makes and models based on the number of problems experienced per 100 vehicles on the road, assigning them an associated 'PP100' score. The study asks survey respondents about 177 specific vehicle problems grouped into categories such as entertainment, powertrain and driving experience, among others.
This year's edition of the annual survey found the Chevy Silverado HD was the most dependable vehicle in the Large Heavy Duty Pickup category. The Ram HD finished the runner-up position to the Chevy Silverado HD, however, it's worth noting that the Chevy was the only vehicle to perform at or above the segment average in this study.
Interestingly, the Silverado HD appears to have far outclassed the closely related GMC Sierra HD with regard to dependability in this study, despite the fact the two trucks share a platform, powertrain options and an abundance of other parts and components.
J.D. Power says many of today's three-year-old vehicles leave something to be desired with regard to the dependability of their technology, which "continues to function poorly or inconsistently." Major failures with regard to the engine, transmission or other crucial vehicle systems are uncommon, however, so while automakers have room for improvement with regard to technology, the reliability of their mechanical systems seems to be improving year-to-year.
The Chevrolet brand itself also performed well in this study, achieving a PP100 score of 115, well above the industry average of 121. GMC, by comparison, found itself toward the bottom of the ranking with a PP100 score of 143.