Murray Chevrolet Cadillac Fleet
Murray Fleet Services
In the event of a work vehicle breakdown, it could potentially disrupt your business. To mitigate this risk, the services of Murray Chevrolet Cadillac Fleet Department in Medicine Hat are essential. Contact us today to ensure the smooth purchase or maintenance of your fleet vehicles.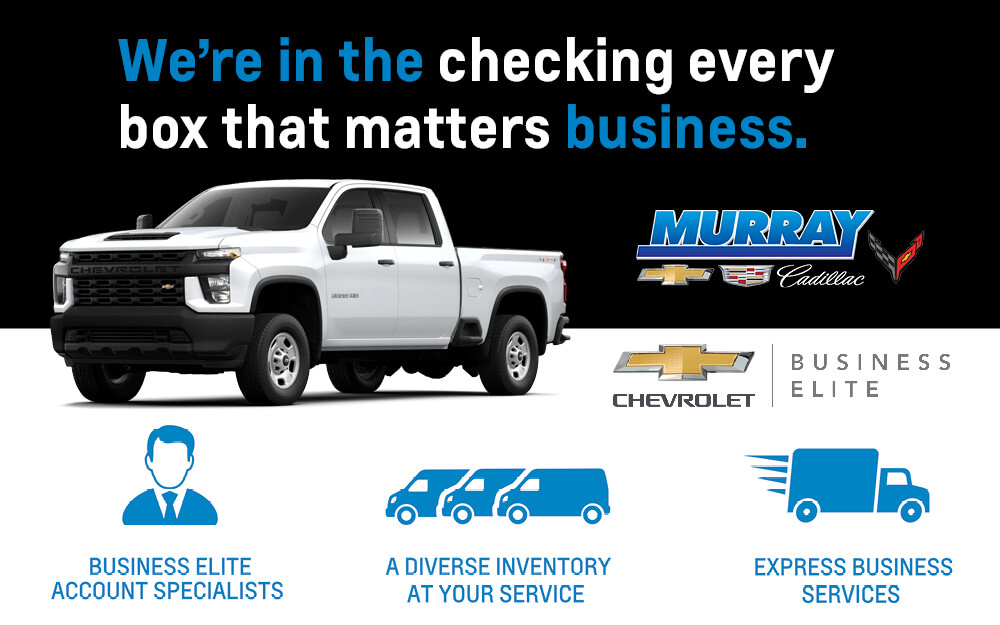 Fleet sales and support is an essential aspect of a business-to-business relationship, with the focus being on meeting your needs, rather than our own. Our team understands this philosophy and is dedicated to ensuring its success. With over 30 years of experience in working with business customers, Fleet Manager Gail Halderman has a deep understanding of what is required to establish and maintain a successful partnership.
Connie Brooks provides personalized support and is dedicated to ensuring customer satisfaction in every interaction. Our Fleet sales team is supported by the exceptional expertise of our Parts, Service, and Body Shop departments. We take pride in having the most dedicated employees who strive to make your vehicle operations run seamlessly and efficiently.
Our Fleet and Commercial department is also Business Elite Qualified and brings even more value to you as a fleet customer at Murray Chevrolet Cadillac. Some of these values are demonstrator vehicles and service support vehicles if you need a work truck if yours requires repairs. We also have guaranteed overnight delivery of parts and first in line for a service bay at our dealership.
Given the comprehensive benefits outlined and our steadfast commitment to providing exceptional support, Murray Chevrolet Cadillac should be your top choice for all your vehicle requirements. Gail personally stands behind this commitment with his signature.
Murray Chevrolet Cadillac Business Elite Medicine Hat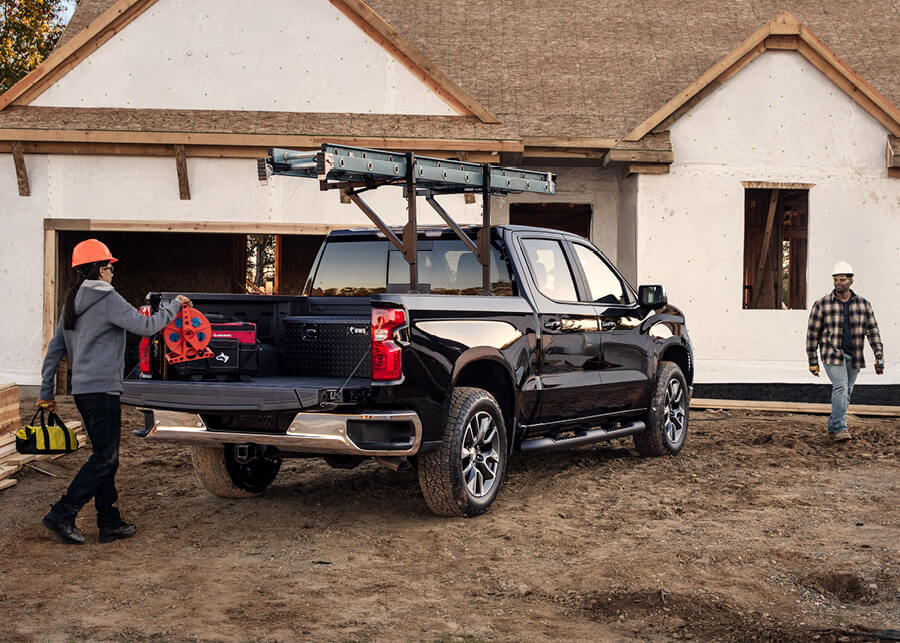 Why Choose Murray Chevrolet Cars, Trucks, & Vans?
A lot of thought and effort goes into planning your business. But the cost of untimely vehicle repairs can throw a wrench into your calculations, which affects the bottom line. This doesn't have to happen to you! Insure against hidden risks by choosing Murray Chevrolet Cadillac for your fleet & Commercial service needs. As a Chevrolet Business Elite dealer, we cater to a wide range of local small businesses, helping you select, equip, and maintain your cargo vans and trucks, so that you can spend more time thinking about the job at hand, and less time worrying about maintenance fees.
There are So Many Ways to Save. It's Your Choice!
The Chevrolet Business Choice program streamlines the process for small, medium, and big business owners seeking to purchase one or multiple work vehicles. With benefits such as work tools, customized parts upgrades, and cash back incentives, you'll find the ideal solution to propel your business forward and gain a competitive edge.
Murray Chevrolet Cadillac is a top-performing fleet dealer, boasting an extensive inventory of vehicles to fulfill every fleet need. Our focus on exceptional service and unwavering commitment to supplying and maintaining the vehicles of our current and future fleet customers sets us apart. Our state-of-the-art facility and full-service dealership capabilities allow us to better serve the specific requirements of your business.
The Business Choice Program
We understand that purchasing your fleet of new Chevrolet work vehicles can be expensive. Our new Business Choice Program can help to take the sting out of those up-front costs. If you have at least five vehicles registered to your business and a Fleet Account Number (FAN), our Business Choice Program members have access to four different ways to recoup some of their costs on new Chevrolet vehicles. Retail customers who do not meet the criteria for a FAN but have a Business Number also qualify for the program.
Three (3) years of OnStar Safety and Security
Three (3) years of Remote Access
Cash Back on Commercial Upfits
$500 Cash Incentive
$750 in Chevrolet Dealer Accessories
For a detailed understanding of the available options, please contact our Fleet Department at 403-527-1141.
How can I sign up and get started?
It's easy to get your FAN and sign up for the Business Choice Program. Simply contact us online, phone us at 1-888-527-1141, or visit our Fleet Department anytime during our business hours. We'll get your business rolling! Our fleet commitment to you is to meet and exceed your individual business needs. We welcome you to experience the Murray Chevrolet Cadillac difference.
When you're good to your vehicles, your vehicles are good to you. This means lower costs on parts, service, and repairs. When it comes to your business, every dollar counts! Here are just a few reasons to choose Chevrolet fleet & Commercial vehicles for your business:
Terrific value retention and resale value
Fleet coverage that takes care of all early oil, lube, and approved maintenance
GM Total Warranty with Roadside Assistance
Access to specialized service deals and fleet promotions
The Chevrolet Business Elite Program
At Murray Chevrolet Cadillac, we know that your business is unique, and we want to take the time to get to know you better. With the Chevrolet Business Elite Program, we listen to you. Once we know a bit more about the day-to-day operations of your business and what your present and future plans are, we'll be able to help you choose and customize the right new vehicle for you. No two businesses are exactly alike! A construction firm will have different needs than a cleaning service or bakery. We help you choose what's right for your business.
Learn more about our Business Elite Program! We're proud to be the only fleet program that guarantees you a personal representative, on-demand vehicle loaners for when you need them, factory-trained Chevy mechanics and technicians, and some of the best service coverage and warranties in the business.
Finance Your Chevrolet Business Fleet
Whether you're just starting out with your new business enterprise, or adding another workhorse to your cavalry, the finance team at Murray Chevrolet Cadillac can help you get underway with the leasing and financing terms you need.
With our finance department, you can establish credit through your business account, rather than using your own name. This helps you get started quickly on the path to affordable financing or leasing rates that look better for the bottom line.
It's not just vehicles we finance. If you're a business looking to customize your fleet, we offer financing deals on parts and aftermarket accessories. We can help you find whatever you need to get the job done right. What's good for your business is good for us! Get started and apply for fleet financing to discover some of the best options in town.
Ask about our pre-installed accessories!